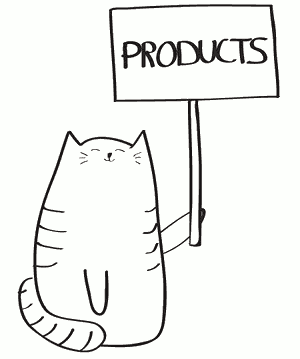 Zoral Loan Management
"If your system wasn't designed to handle digital products, it probably won't..."
Understandably, most loan management systems were designed to record and manage loans. However, when moving your products to a digital platform, they need to do far more. Digital platforms need intelligence, supported by AI. They need to be fed with data for machine learning in order to refine decisioning. Zoral Loan Management was designed to do this from the outset.
Driven by Zoral DE, Zoral LM is a highly adaptable credit/loan management system. It combines with Zoral DE to form a flexible platform supporting digital lending. Zoral LM captures and feeds a wide range of data to real time decisioning, driving the customer journey and next-best-action decisions. It can be implemented rapidly and evolve to your product needs without the need for time consuming development.
Zoral LM captures customer and product lifecycle decisioning, performance and supplementary data. It is easily adapted to multiple financial products and supports intelligent and dynamic customer journey. Front office, back office workflows and business processes are fully configurable. It functions as part of a straight-though-processing (STP) architecture, and automates and streamlines manual business operations processes.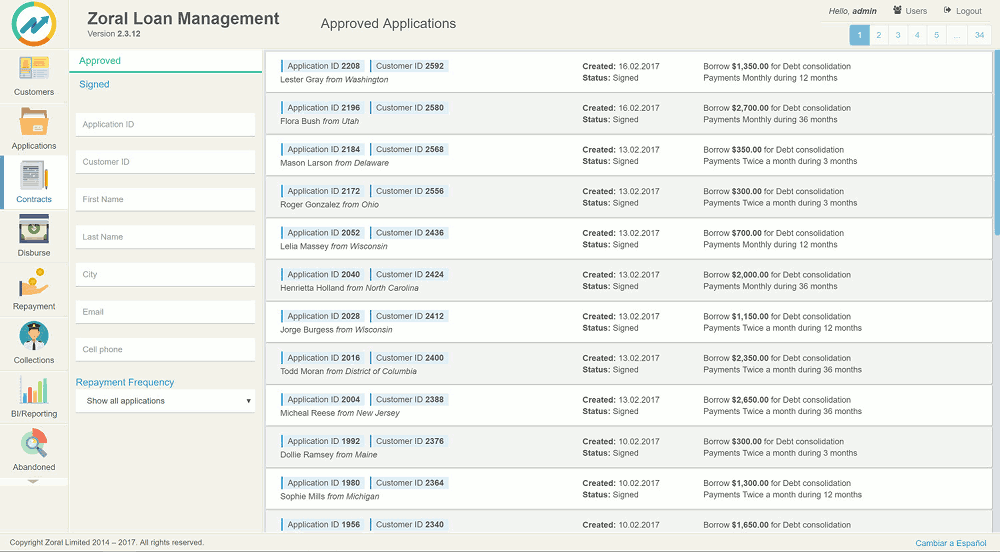 integrates with Zoral decision engine, Zoral Dynamic Customer Journey framework to provide a complete fintech solution
supports a wide range of e-lending and digital product channels, e.g. online mobile application, chat, SMS, USSD, IVR, customer service phone call session, email, in person at a branch office, via e-commerce, by reference, via marketing campaigns, affiliates, etc.
powerful tools to configure and adapt different products
user definable product attributes e.g. interest rate, fees, term, repayment frequency, collateral, minimum balance or credit limit calculation formula, refinancing options across geographies and regulatory regimes worldwide
configurable product lifecycle, including

◦ application processing
◦ underwriting,
◦ contract execution
◦ money disbursement
◦ late payments management
◦ loan recovery
◦ collections and closure
◦ loan extension
◦ loan refinance
◦ legal and write-off
◦ referrals
◦ loyalty program management
◦ promotions
◦ a/b testing
◦ and many others

decision transparency, tracking historic decisioning and Zoral LM initiated changes, (create, update or "soft delete") made to a customer, application or a contract record
supports a wide range of data including

◦ behavioral
◦ social
◦ device
◦ MNO
◦ web
◦ unstructured
◦ geolocation
◦ machine
◦ ad-networks
◦ application
◦ multi-bureau
◦ marketing
◦ chat
◦ telematics
◦ machine
◦ time series
◦ voice
◦ image
◦ biometric
◦ utilities
◦ government
◦ and others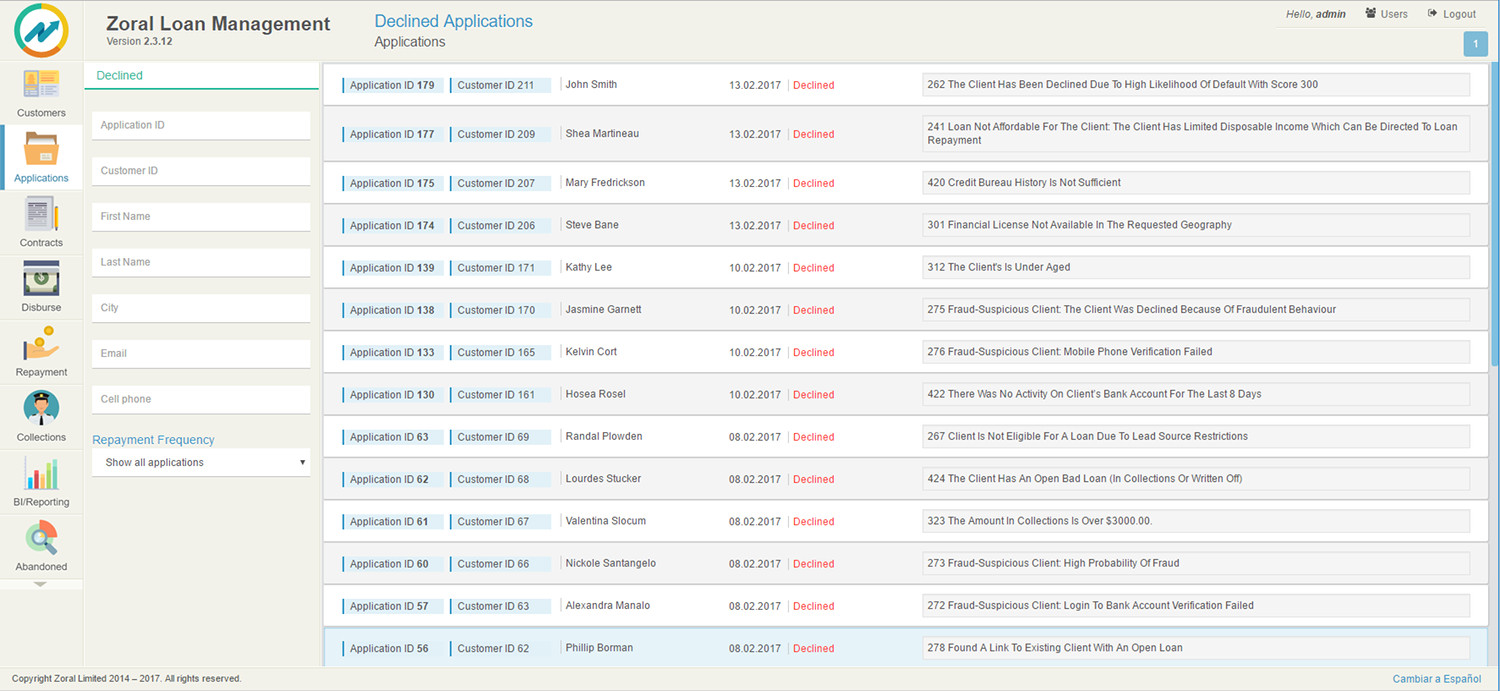 integrates with 3rd party and internal systems data sources, e.g.

◦ credit bureau
◦ bank statements
◦ data providers
◦ employment & income verification services
◦ document electronic signature (e-sign) services
◦ sms and email services
◦ existing operational databases etc.

re-usable, intelligent 3rd party data/application adapters
Big Data capability
configurable business processes
configurable regulatory rules and workflows
supports intelligent, AI based, straight-though-processing (STP)
minimizes or eliminates the need for a human interaction in manual operations processes
supports online/mobile customer self-service functionality to reduce operating costs
granular, auditable security and user access. Integration with existing directory services (LDAP, Active Directory)
definable (BPMN 2.0 standard), executable, workflows for

◦ financial product management lifecycle
◦ business processes (e.g. loan application and underwriting
◦ loan recovery and collection, legal, write off etc.).

processes can be fully automated or include manual activities and procedures, (as required by the business or regulation/compliance)

supports additional, add-on products such as loan insurance, refinance and loan extension process, etc.
provides API based, data/event notification integration points to other enterprise software components (such as CRM, existing Zoral LM, G/L, Billing, ERP etc.). These are flexible, scalable, bi-directional and platform-independent
extensible, customizable General Ledger interface to 3rd party G/L systems
Zoral LM components interact securely, (synchronously and asynchronously), with internal business, 'CORE' processing systems and external 3rd party components and services to improve, automate and scale business processes
supports a large range of lending products e.g. unsecured micro-loans and installment loans, secured loans, collateral management, hire purchase (rent to own) loans, agriculture loans, e-commerce loans, pawn broker loans, car loans, SME loans, line of credit, etc.
designed to handle both online and offline products and benefit from their synergies
scales to millions of customer/application/device interactions per day
low-latency response time. Latency is a configurable/granular parameter
extensible, customizable integration with electronic document storage, payment systems, money transfer systems, 3rd party offline services, (e.g. collection firms), and 3rd party online services (e.g. electronic signature)
extensible, customizable data integration via export, or though messaging system, to external systems such as BI, ERP systems or other decision engines
bi-directional interaction with Zoral DE to support "intelligent" decisions and verification throughout the customer lifecycle
decisioning uses heterogeneous data sources e.g. past and current loan performance, credit bureaus, fraud databases, bank statements providers etc.
handles multiple lending products/services and lending processes/workflows across geographies
organization, product hierarchies and other business dimensions
integration with popular content management systems, (such as WordPress or Drupal), to integrate processes managed by the Zoral LM into existing corporate websites
dynamic customer journey support across different channels. Supports mass personalization of digital lending products and services
powerful, easy-to-use, version control for work flows and rules
captures business user know-how and business intelligence, (e.g. setup and maintenance of calculation of interest and fees for a loan, for a specific product or A/B testing of a product idea)
comprehensive and customizable business process work flows, (e.g. loan application, underwriting, disbursement, repayments, retention, cross-sell, upsell, collections, write off etc.)
powerful rules engine to enforce business and compliance policies such as credit amount or credit limit terms, on customer and portfolio level
re-usable rules and work flows, as building blocks of automated e-lending processes management
360° customer view, consolidating data from multiple data sources including,

◦ digital channels
◦ current and historical information
◦ customer lifetime value (LTV)
◦ associated costs (e.g. marketing and operating)
◦ past and current loan status and history (including arrears)
◦ history of payments (including late payments)
◦ risk- and marketing-related scores and indicators (on customer and products/loan level)
◦ credit bureau reports, bank statements and other 3rd party data obtained
◦ documents uploaded or generated such as scan/photo of personal ID, pay slip, legal contract etc.
◦ customer-related warnings and notifications
◦ related customers (e.g. referrals, family members or friends).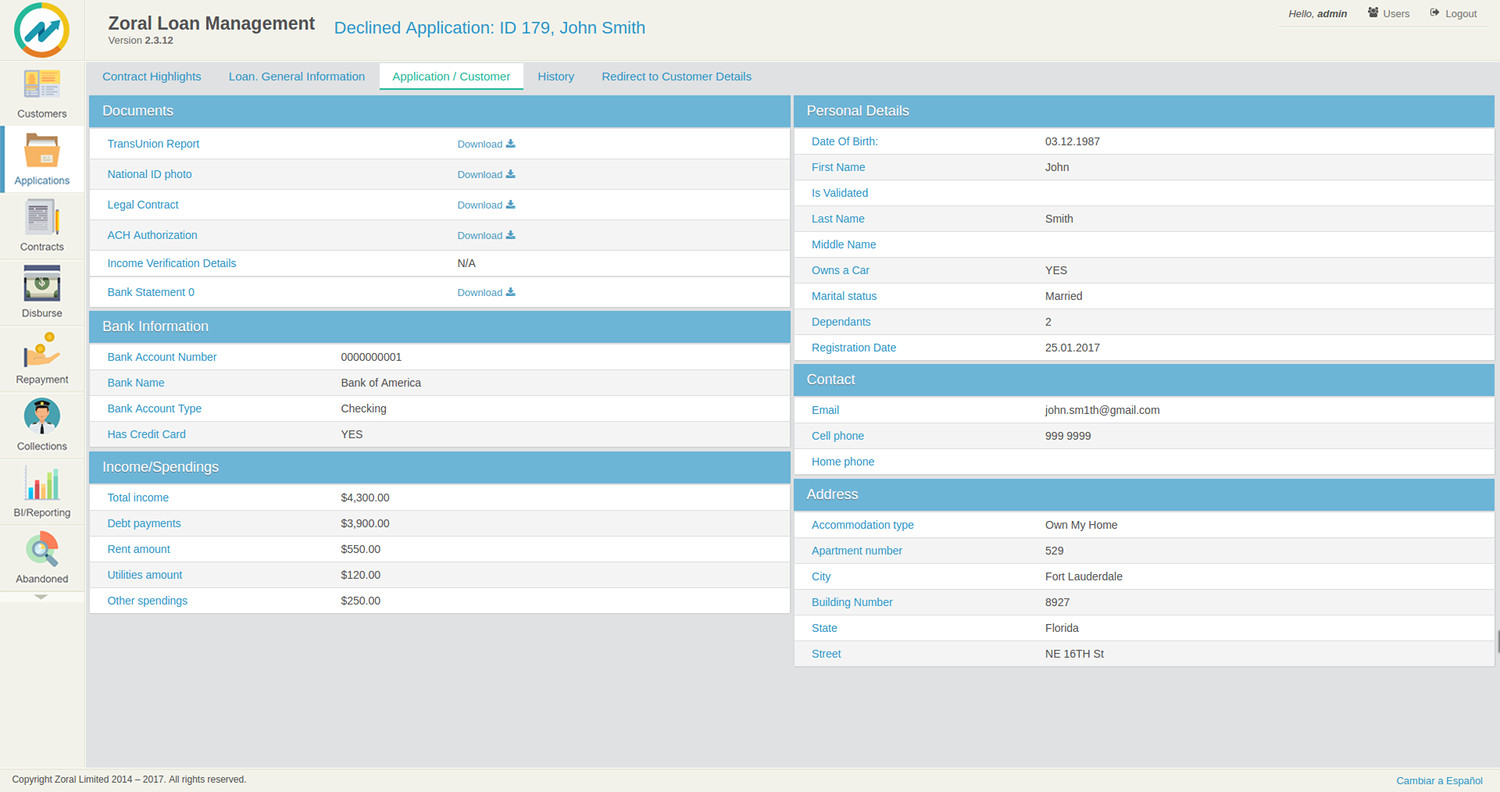 supports configuration of

◦ application management
◦ contract management
◦ funding management
◦ cash management
◦ marketing (e.g. loyalty programs, up-sell, cross-sell)
◦ compliance management
◦ time management (e.g. calendars, promises to pay)
◦ asset management (inventories)
◦ collateral management
◦ 3rd party management (commissions, asset disposition, broker, etc.)

defines new loan lifecycle management processes from scratch or encapsulate sets of rules and work flows as intelligent, version controlled templates. These can be re-used/modified across products, geographies and other business dimensions
monitoring of current and historical KPI's and metrics at product and portfolio level
A/B testing to facilitate product tuning, innovation and optimization of loan application and contract management processes
fault-tolerant, scalable. 24/7 fault tolerant architecture
modular deployment, modular structure i.e. only modules that are required need be deployed and maintained
ability to monitor system and portfolio performance in near real-time
supports long running business processes, (e.g. some activities and procedures of a loan application or contract management process may require human interaction, (duration might be from minutes to days)
separation and control of business workflow development and its approval from UAT environment to production
different deployment models, e.g. deployment to public cloud, or hosted on enterprise private cloud or multi-instance deployment to a server farm, or hybrid cloud/server deployment.
Zoral LM as part of Zoral Platform is ideal for...
intelligent STP enabled, scalable, online/mobile e-lending
intelligent off-line lending
blended online/offline lending strategy
e-commerce based lending
SME lending
MNO based e-lending
and many others.