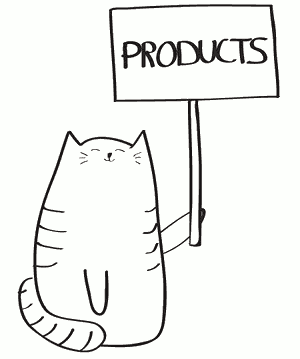 Zoral Automation Platform
"automating manual processes intelligently is not simple... neither is digitizing products...

zoral automation platform (zoral)

does both, quickly and easily."
Many businesses are automating manual processes and decisions in order to stay competitive. Below are some of the reasons,
grow revenue without linear cost increase
eliminate repetitive manual work
increase digital and geographic coverage
respond to competitive/regulatory pressure
improve core KPI's
quicker response to customer needs
improve "time to yes" and "time to cash,"
improve margins
improve data quality
protect existing revenue streams
To accomplish this corporations typically buy and integrate a range of software products, such as workflow, OCR, RPA, decision engines, etc. This is not ideal, as, many automation functions can't be broken down into separately designed, non-cohesive products and still remain effective. zoral has solved this problem.
zoral modular automation platform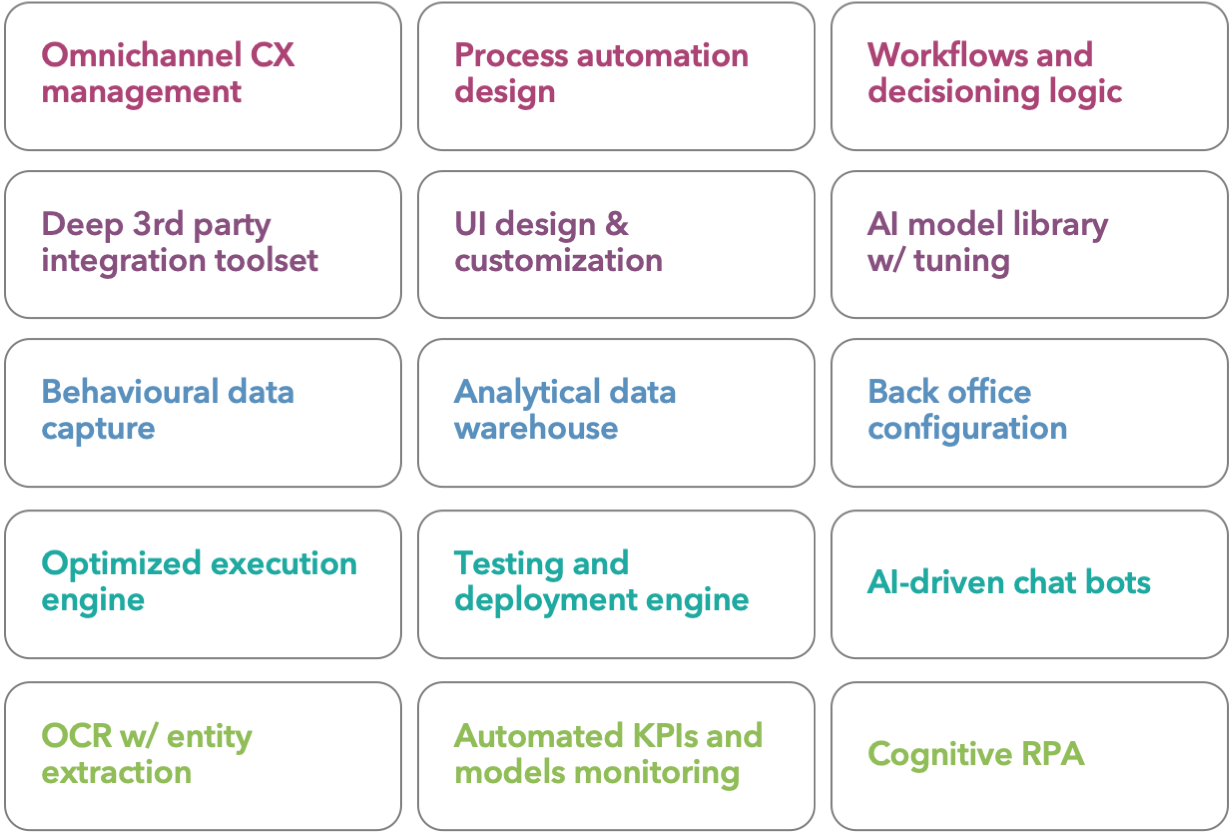 Provides all necessary components to automate even the most complex mortgage, banking, and finance processes and decisions. It's modular, micro-services architecture supports partial or full end-to-end automation.
zoral was designed from the outset to be "intelligent", making full use of AI/ML automation techniques.
zoral is a low code/no code, rapid build-and-deploy automation software.
With zoral you can digitize, integrate, automate and control your processes and decisions.
zoral has centralized logic and control
zoral business logic, omnichannel customer interactions, and workflows are all controlled, configured and executed centrally. So you can see the whole picture, quickly optimize, and adapt to the constantly changing business environment.
This is important. Business automation logic needs to be in one place. If it's fragmented across different systems, it becomes hard to see, maintain, control and change. Fragmentation increases costs and slows time to react.
zoral is rapid to deploy and adapt
Nothing stays the same. Products, channels, data, workflows, business logic, decisioning, compliance, regulation, customer interaction/behavior, and competition, all change over time.
zoral allows business users to manage and control changes rapidly and easily from a single console.
zoral modules are all architecturally interconnected and designed as such from the outset. Therefore, there is no need to spend time integrating and maintaining multi-vendor automation system components, or write and maintain complex integration code.
zoral is scalable
zoral's architecture and micro services design allows it to scale from a few transactions per hour to 10,000 per second and more. It handles automation processes from the smallest to the largest seamlessly, without imposing unnecessary complexity.
zoral provides visibility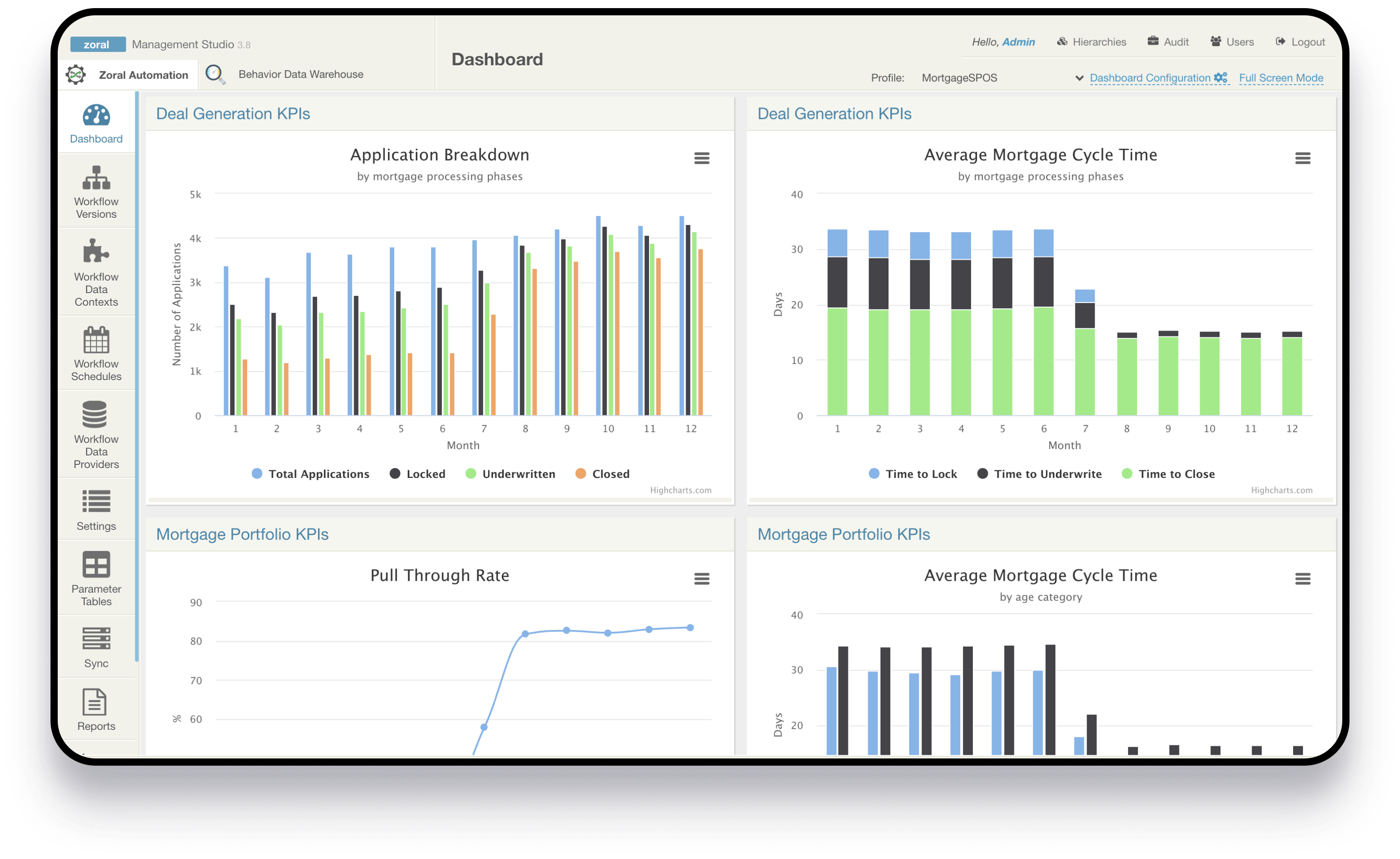 zoral allows your team to have their own view and control of KPI's, performance, process flows etc. Each can have a highly configurable, customised dashboard showing their core KPIs as both real-time views and historic analysis.
zoral combines process workflows with a world-class decision engine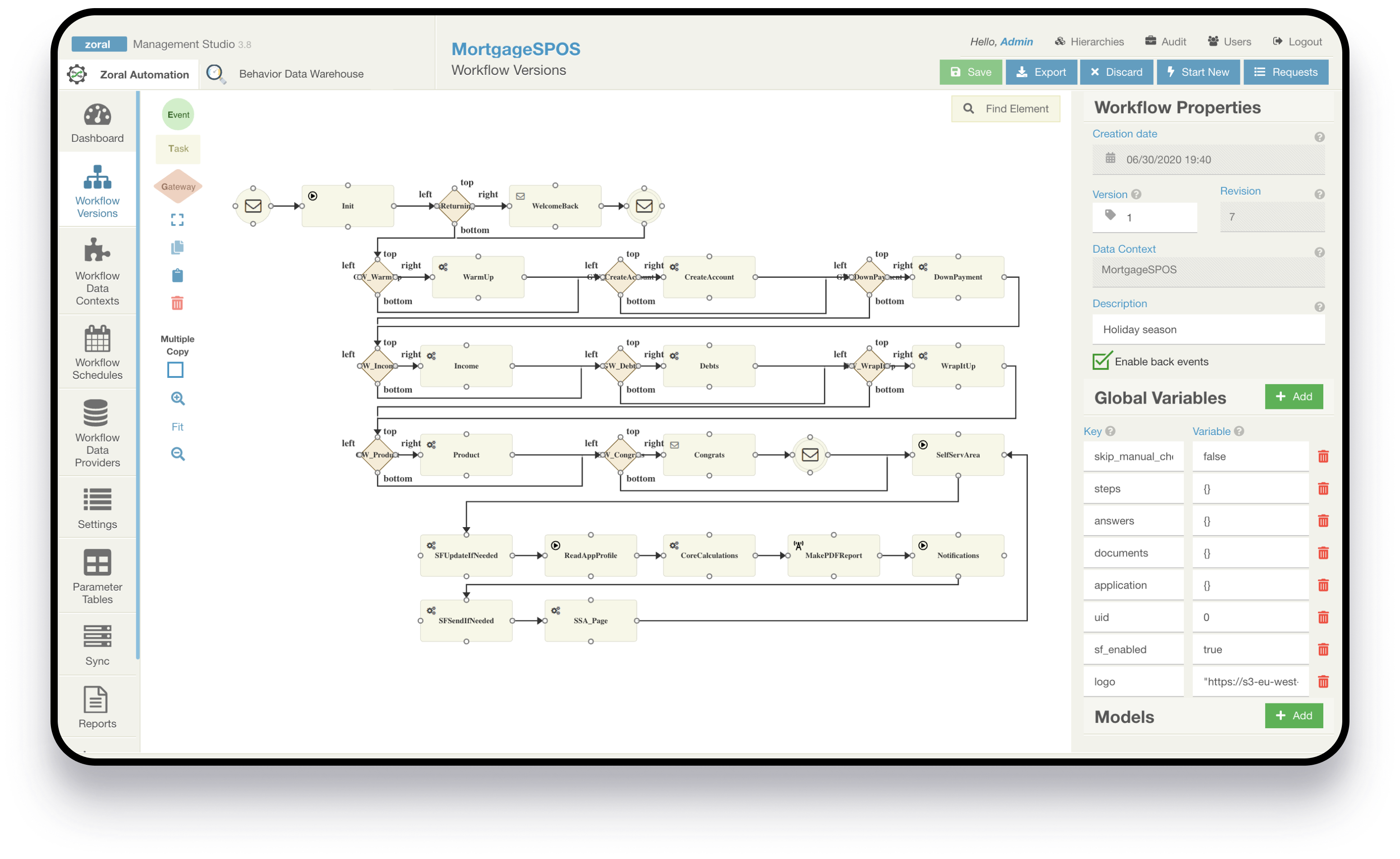 zoral contains a world class decision engine (zoral de) component. zoral de is a sophisticated, multi-functional, decisioning and workflow automation system. It supports ultra-high speed STP, intelligent workflows and processes. Using zoral de the business user can design and execute complex workflows for both process, and intelligent next-best action decisions. Its sub-components and functions include:
extensible library of heterogeneous data and 3rd party connectors
process and decision workflow versioning, execution, re- use, and deployment controls
low code / no-code rules, policies, functions, and intelligent workflow evaluation and optimization
interface to integrate models, model libraries and analytical services
real time decisioning, and intelligent next-best-action support
scheduling
testing, development, sampling
hosting configurations
analytical/modelling environment (batch testing, A/B testing or champion/challenger, AI/ML models deployment and testing etc.)
sophisticated modelling support, (e.g. linear, non-linear functions, deep learning, NLP, OCR)
configurable dashboard reporting (system, model performance, core KPI's etc.)
configurable monitoring and alerts
audit and security controls
zoral cognitive robotic process automation (RPA)
There are times when connecting via API's is not sufficient or possible. Over time, many organizations inherit/develop legacy applications which are critical to their operations. Keeping these alive and functioning often requires significant manual effort just transferring information from one system to another. This also has an adverse impact on data consistency and quality.
Zoral developed cognitive RPA to solve this problem. zoral rpa allows the organization to automate across disparate systems, replacing manual effort with autonomous robots, without changing the existing technology.
Features include:
Powerful low code, no code, visual RPA designer with extensive role-based, security credentials control
Rapid build of automated data exchange, and bi-directional process interactions with web sites, legacy systems, any 3rd party systems
Centralized, highly scalable, fault-tolerant RPA deployment, scheduling, monitoring and control
Seamless integration of RPA tasks and components in process and decisioning workflows to facilitate automation lifecycle management
Integration of AI/ML providing powerful cognitive RPA functionality
Creation and management, version control of re-usable sub-workflows and RPA components
Seamless RPA components integration into

zoral

audit, GDPR and logging sub-system
Seamless integration to

zoral

process and decision monitoring sub-systems
Seamless integration with

zoral

OCR and AI/ML model libraries
essential functions for automation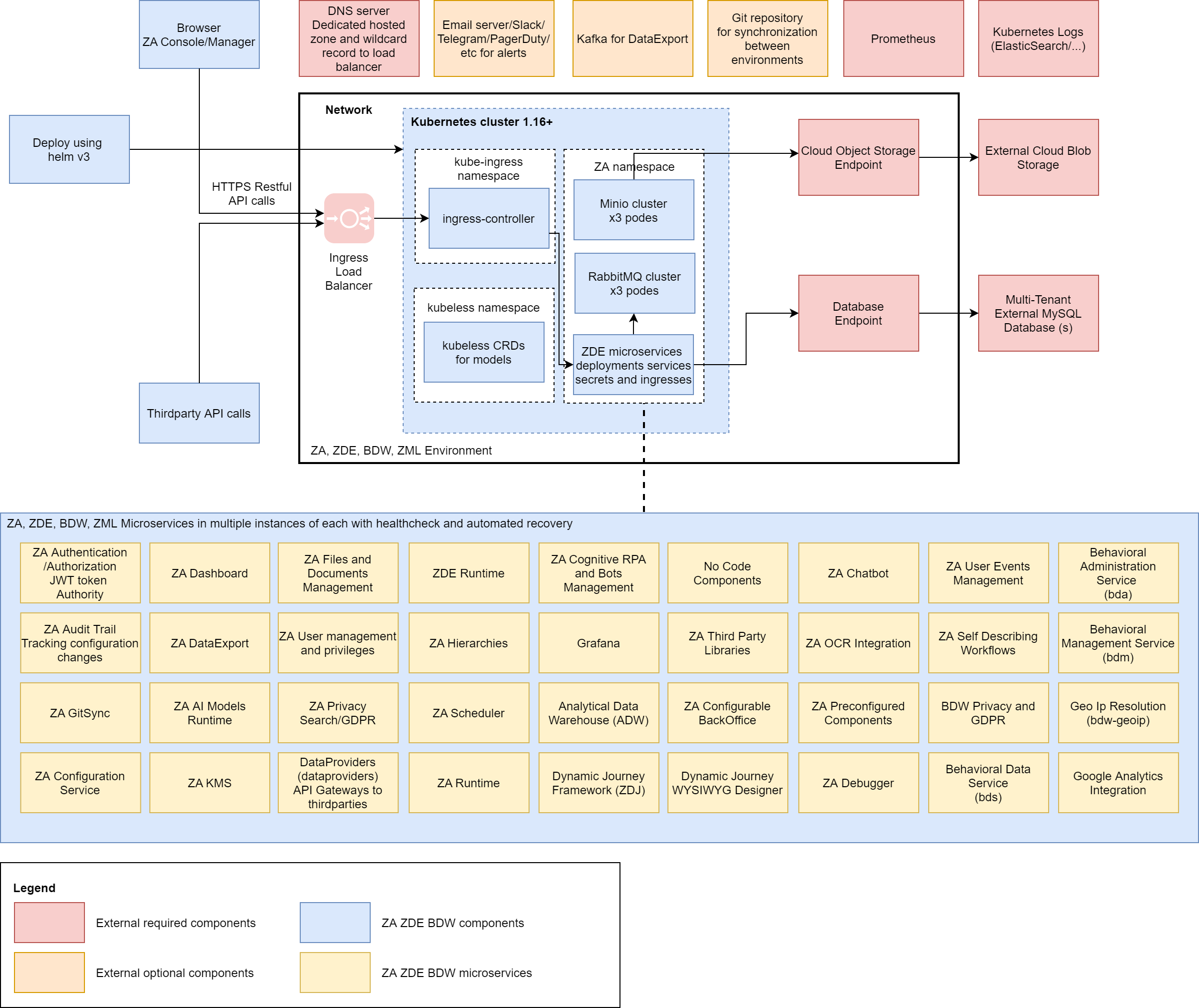 To automate you have to:
digitize
CX/UI customer journeys
self-service portals
customer behaviour
documents ingestion, and categorization
ocr - extraction of data
integrate data via:
API
software robots
variety of DBMS
notifications, alerts, payment and other types of events
actions using software robots
intelligently automate
business processes
digital products
AI
software robot tasks
decision workflows across front-, middle-, and back-office
back-office roles and tasks to reduce or eliminate manual processes
policies
business rules/logic
compliance
data quality
quality control
A-B testing and process improvements
conditions
multi-channel notifications
payments
alerts
e-documents
BI
multiple domain data models
reference data
data monitization
control
process and decisioning
audit
user roles
sign-off procedures
security
dashboards and monitor of KPIs
iterations and versions
testing
documentation
deployment
channels and
many more.
additional zoral automation modules include
behavioral data warehouse
analytical data warehouse (ADW)
intelligent OCR
AI-driven chat bots
AI models library