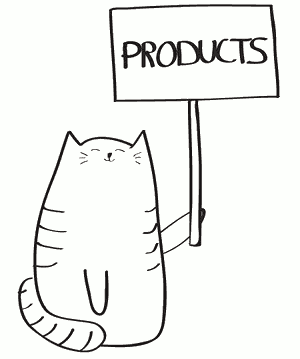 Zoral Platform
"If your system wasn't designed to handle digital products, it probably won't..."
Most financial software was designed and developed prior to the mass selling of financial products on the Internet. So many struggle to meet the needs of an automated, STP, AI driven world.
Zoral has solved this problem. Embedded in Zoral Platform are deep fintech knowledge, behavioral analytics, artificial intelligence and robotics. It adapts to customer behavior dynamically and intelligently so that you can fully automate your digital products.
Zoral Platform is a SMART system, one of the most powerful financial platforms in global use today.
The problem
"Digital disruption is forcing banks and other financial service companies toward new ways of delivering data and apps..."
― Forbes, 26th January 2017
Banks and insurance companies are moving their products and services on-line or via an app. They are automating many, previously manual processes. The rate of this "digital transformation" is accelerating. However, for technology this brings challenges...
Transforming a product from off-line to digital is not easy.
Most systems and software tools were not designed to do this.
Trying to adapt them is time consuming and expensive, plus the results are usually sub-optimal.
A large range of new functionality, data, context, knowledge and analytics is required to manage scalable, digital finance.
The issue is...
"BNP Paribas to invest €3bn in digital transformation"
― Banking technology, 7 February 2017
just as with selling and servicing products "face to face", to sell on-line effectively you need to "see" and respond to your customer individually. Plus, this response needs to be intelligent, high speed and in real-time. This requires a whole, new range of predictive data and artificially intelligent, machine learning systems. This is not easy if your system was not designed to do this from the outset.
"to get good results, you need to personalize and adapt your products and sales approach in real time..."
A survey
"Bank of America Merrill Lynch... has tripled its digital budget in 2016. Our customers don't benchmark us against banks. They benchmark us against Uber and Amazon."
― Hari Gopalkrishnan, CIO Information Week, 26th October 2016
We carried out a survey of banking/finance companies in the process of moving to digital products. We asked them about the limitations of their existing system and problems they encountered. Here are some of the responses.
UI
lack of personalization capabilities
decision workflow hard to customize to match digital product requirements
inflexible customer journey and adaptation
user interface changes take too long and are expensive to implement, limiting innovation and experimentation.
Data
"Digital Transformation Tops CIO Agenda for 2017"
― Wall Street Journal, 28th December 2016
poor data quality
automated data capture and alternative/additional data sources limited or absent
problems identifying which data is predictive and when
limited automation of customer data validation and verification
"stove piped" data in diverse systems, difficult to access
issues with integrating to 3rd party data and multiple data sources
management of knowledge repositories not consistent or absent
difficult to get data when needed.
Decisioning
long time to get changes to market
time consuming to change/implement decisioning logic/policies/rules/models/workflows as part of customer and product lifecycle management
problems with integrating/adapting decisioning logic with user interface, Loan Management system (LMS) and other modules
sub-optimal acceptance, conversion, retention, default, and fraud rates
restrictions in creating and testing new business workflows, rules, policies, models, data verification logic, long development cycles
lack of transparency/traceability of decisions
Operations and Business process management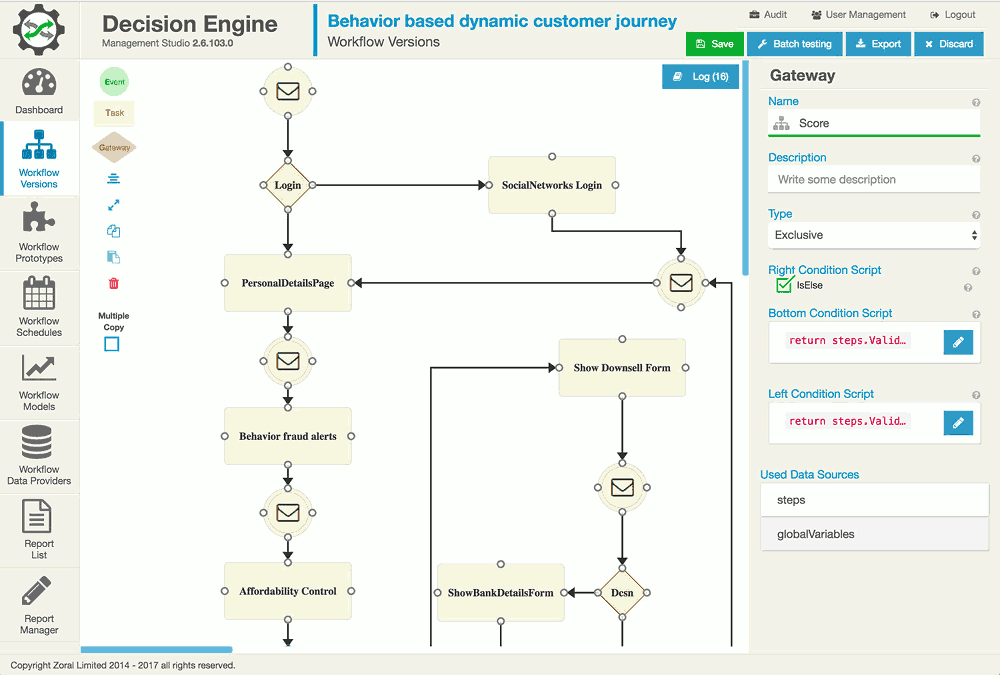 lack of flexibility to modify product types, adapt customer & product lifecycle processes
modifying acquisition channels slow, (e.g. web, mobile, USSD, voice/IVR applications, SMS, chat, etc.)
enhancing system functionality and changing / automating business process workflows difficult and time consuming
too much manual effort in the customer & product lifecycle
limitations in automating LMS processes were often sited, e.g. "possible to select a wrong option" or errors due to numerous data field entries
limitations for online/mobile lending systems where customer volumes are significant/growing
performance, scalability and fault tolerance issues
lack of STP (Straight Through Processing) support. A number of LMS's and Decision Engines could not be utilized for STP online/mobile lending systems
in-house platform struggles to get timely and necessary changes delivered. On-line business, needs rapid reaction, and "Agile" iteration, and so is constrained
maintenance/development costs too high.
In summary, most banks/finance organizations were restricted by their platform and some struggling to offer and automate digital products. Growth and profitability were constrained. Time to market, adapt and innovate were too long. Using traditional, pre digital product platforms or trying to adapt them was not working efficiently.
Zoral Platform was designed to overcome these issues
Zoral Platform solves the above problems. It has been designed to help you transform products from off-line to digital. Its AI/ML systems and workflows intelligently manage the entire customer, portfolio and product lifecycle.
Zoral Platform workflows are "intelligent" and control process as well as decisions
"...automation .. is what will impact finance the most in the next decade
― Business Insider, 22nd August 2016
This point is important and worth taking time to consider in more detail. You can read more here, Zoral Decision Engine.
Zoral Platform intelligent workflows allow you to market and sell digitally much as you would face to face, i.e.
adapt to individuals
dynamically adapt your sales approach in real time, as you learn more about your customer
test and try new approaches, models, techniques, strategies, products, offers etc.
experiment, implement and adapt those that produce the best results
monitor, compare performance and further tune
gracefully handle a large range of predictive data and Big Data volumes
customize and optimize your business processes
manage and execute real time decisioning.
"If you don't have the right data, you can't make the right decisions..."
Zoral Platform captures and supplies a large range of predictive data. This is important, as it has a major effect on...
Zoral
operates one of the largest Artificial Intelligence / Machine Learning research labs in Europe focussed on fintech automation
personalizing products and services
optimizing operational processes
improving customer experience
ongoing predictive models tuning
customer verification
dynamic customer journey
portfolio performance.
"credit scores and bureau data aren't enough..."
Most of our clients' systems did not capture all the data required. Zoral Platform does.
Typically they used credit scores and traditional credit bureau data where available. This data is useful, but far more is needed, from a wider range of sources, (e.g. behavioral, application, historic, device, social, MNO, unstructured, bank statements, lead generator, marketing, 3rd party and many others). This is necessary to obtain a full "picture" of the client in order to optimize each step of the sales process and relationship.
Zoral Platform was designed from the outset to collect these. More importantly, it knows which features to collect, which are predictive, for what and when. This is crucial and represents over 300 man years of R&D.
With Zoral Platform you can manage the entire customer relationship from the moment a lead is referred to your site. Plus, when we say "manage", we also mean "intelligently automate," with minimal human intervention.
Also, it not just about credit scores. Predicting default/risk is, of course, important. However, to fully automate a digital product and allow it to scale requires the calibration of a large range of collaborative models
looking at each aspect of the client relationship and behavior. Plus, in certain areas of the product lifecycle, model ensemble and boosting techniques are required to optimize profitability.
going "global"...
Zoral Platform covers our global experience. So you can rapidly expand your use of Zoral Platform across states, countries and continents, even where little or no credit agency/bureau data exists. (NB Zoral has specialized in this throughout the Americas, Europe, Africa and Asia).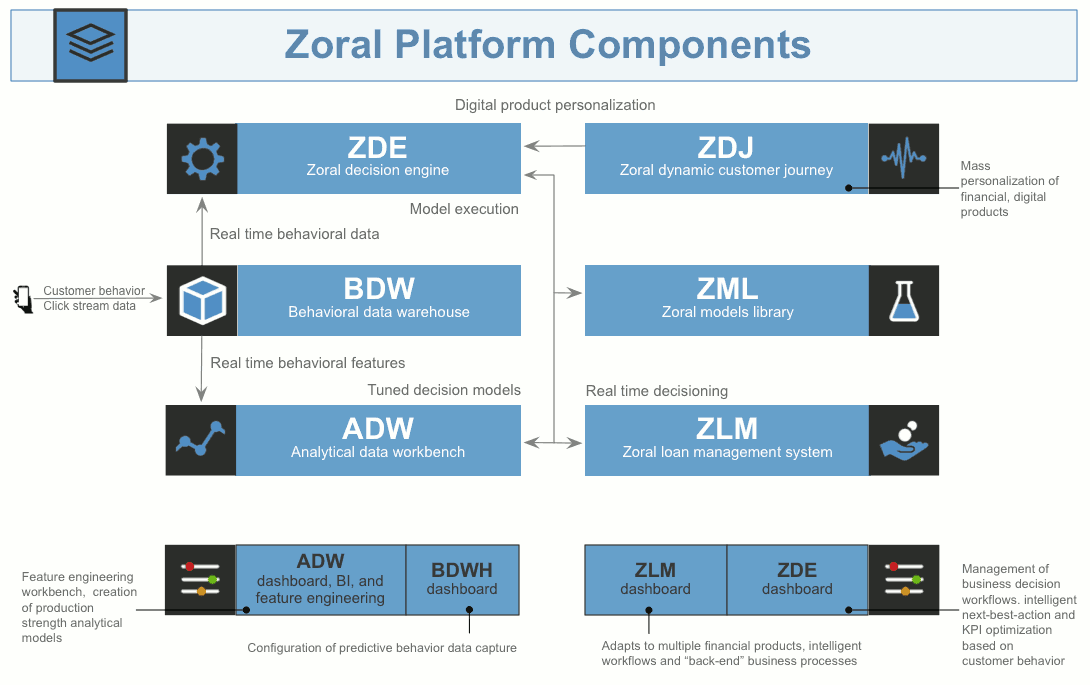 Zoral Platform allows you to implement, manage, adapt and scale your products and services. It has been designed to help you migrate from off-line to digital products. In today's environment this needs to be done rapidly, avoiding time consuming development. It does this regardless of...
type of digital product
geography
portfolio size
whether you sell online, offline or both.
Its modules can be used independently so each can integrate with your existing systems. They can also be used in combination to form a complete, SMART and powerful platform that can be implemented and customized rapidly.
adapts to customer behavior
allows mass personalization of digital products and services
handles front, middle and back office intelligent workflows and processes
automates and streamlines manual business operations
integrates to G/L, CRM, MFS and other internal and 3rd party systems
highly scalable, configurable, and extensible
low latency, secure, fault-tolerant, and auditable
modular
simple to integrate with your existing or third party systems
platform components can be used on their own or in any combination
optimizes a range of business metrics and KPIs
handles a very wide range of digital products (financial, e-lending, SME credit, insurance, MFS etc.)
captures and utilizes a wide range of predictive data sources
automates KYC verification
fully customizable, multi-channel, dynamic customer journey
automated, intelligent decisioning for customer and product lifecycle
fully automates underwriting and enables intelligent, end-to-end STP for digital products
handles off-line/on-line, fully and semi automated products
manages performance & supplementary data
handles multiple products and product add-ons simultaneously
Zoral DE is a sophisticated, multi-functional, decisioning system. It supports ultra high speed STP and intelligent workflows and processes. Using Zoral DE the business user can design and execute complex workflows for both process, and intelligent next-best action decisions.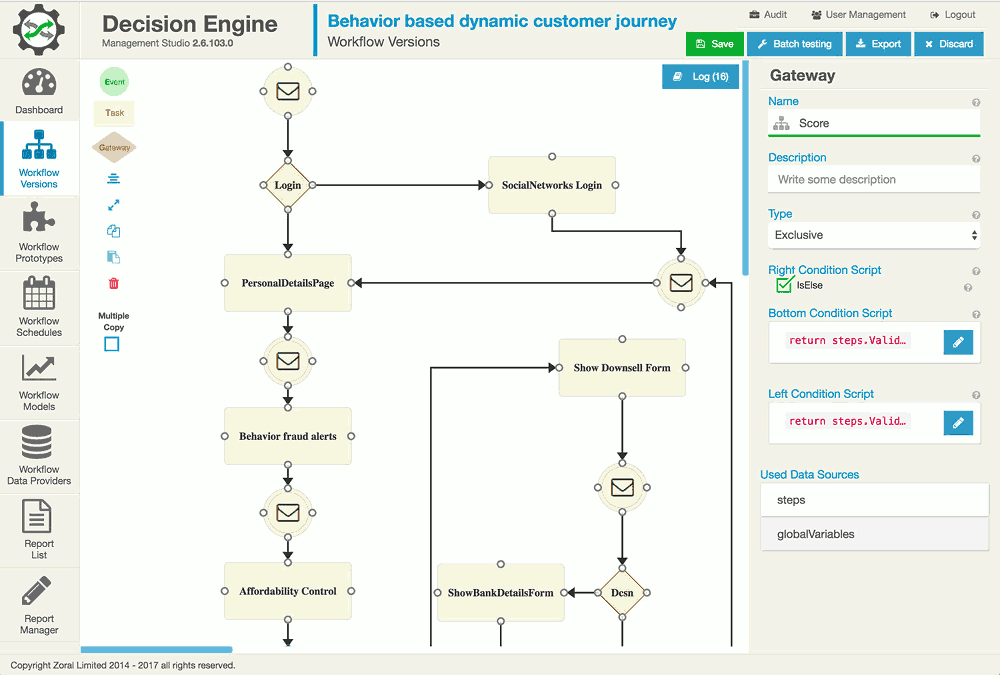 Its sub-components and functions include
extensible library of heterogeneous data and 3rd party connectors
process and decision workflow versioning, execution, re-use, and deployment controls
rules, policies and intelligent workflow evaluation and optimization
interface to integrate models, model libraries and analytical services
real time decisioning, next-best-action, and dynamic customer journey support
scheduling
testing, development, sampling
hosting configurations
analytical/modeling environment (batch testing, A/B, champion/challenger etc.)
sophisticated modeling support, (e.g. linear and non-linear functions)
configurable dashboard reporting (system, model performance, core KPI's etc.)
configurable monitoring and alerts
audit and security controls
Read more...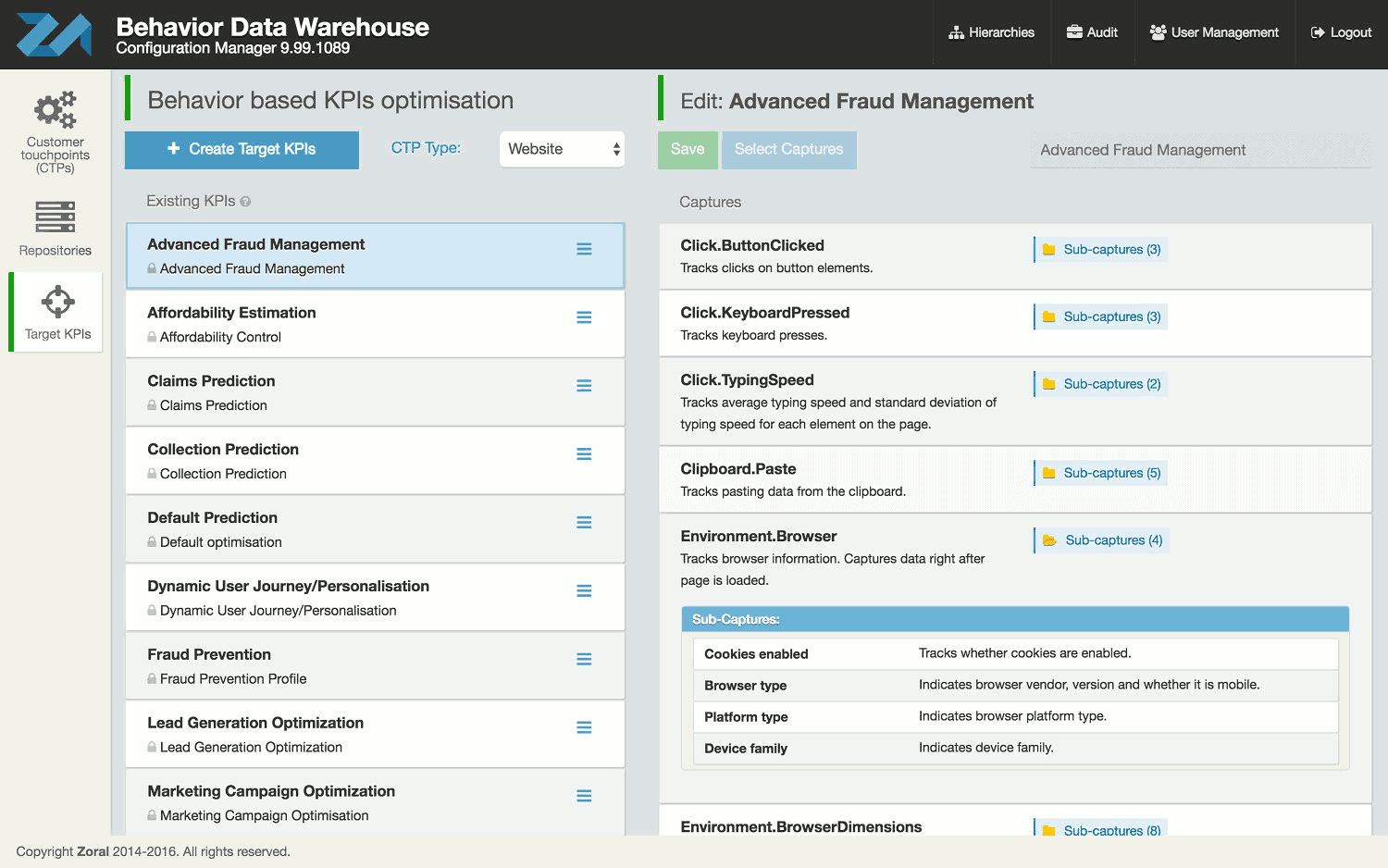 Zoral BDW is a fully featured, Behavioral Data Warehouse integrating with Zoral Decision Engine. Zoral BDW automates the collection, storage and quality control of your behavioral data.
Zoral BDW contains the knowledge base of Zoral's extensive commercial application of behavioral data. It knows which features are predictive, of what and when. Read more...
Zoral ML is Zoral's global library of pre-tuned models. It contains the results of many hundreds of man years' of R&D effort, testing and use, throughout the world. Its covers decisioning and predictive analytics for
◦ consumer credit
◦ sme credit
◦ mobile banking
◦ mobile credit
◦ collections
◦ marketing
◦ fraud detection/prevention
◦ payments
◦ remittances
◦ insurance
◦ mobile financial service
◦ e-commerce
◦ and many others.
As well as linear and statistical models, Zoral ML contains some of the world's most advanced artificial intelligence/machine learning techniques. Read more...

Driven by Zoral DE, Zoral DJ framework handles the UI, presentation logic, and customer journey across multiple digital channels and customer touch points. It manages the user interface, sequencing of screens, pages and fields, layout, look and feel, and customization.
Zoral DJ customization also handles, pre-filling forms, enhanced data entry validation and verification (such as address lookup, ID verification etc.). It supports a range of customer-facing applications such as web, mobile, USSD, SMS or voice applications. Its business logic and processes are configurable via Zoral DE intelligent workflows to support business operations, customer support, front and back office, web and mobile applications.

ADW is Zoral's own feature engineering workbench. It encompasses big data analytics, extensive models knowledge base, and advanced data visualization platform.
ADW architecture is used to consolidate multiple sources of structured and unstructured predictive data to create a 360° customer view.
ADW supports models and model data, metadata versioning, models validation, calibration and quality management, data quality management, data enrichment, feature engineering, model governance, tuning and development of production strength analytical models, significantly reducing time-to-market.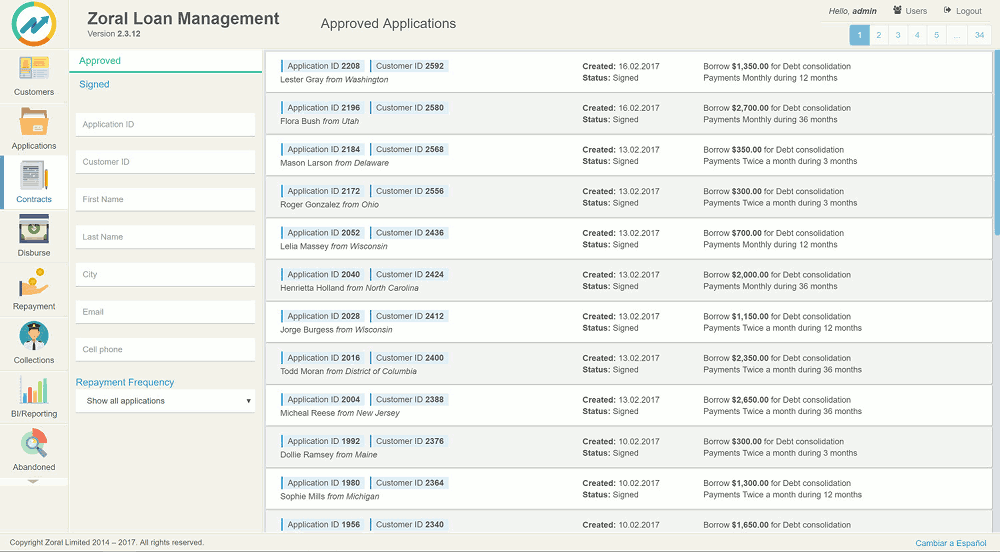 Zoral LM has been specifically designed for all types of digital financial products and credit. It is highly scalable and customizable. It has a comprehensive and extensible transaction repository for financial digital products.
It captures all decisioning data used for the entire digital customer and product lifecycle, together with process, financial transactions, historic, performance and supplementary data. It is easily adapted to multiple financial products and supports front and back-office workflows, work queues, business processes and General Ledger integration. It is designed to support straight-though-processing (STP), and automated business operations. Read more...
In summary
Zoral Platform is innovative, scalable and SMART. It has a component based approach and ability to capture and utilize a wide range of predictive data sources. This allows companies seeking to deploy digital financial products to overcome the limitations of traditional financial systems, as outlined above.
Zoral Platform, with built-in powerful decisioning and advanced, actionable analytics, provides a solution that is...
◦ adaptable
◦ intelligent
◦ scalable
◦ low-latency
◦ data rich
◦ automated
◦ modular
◦ fault-tolerant
◦ STP enabled
◦ extensible
◦ secure
It avoids "hardcoding" the solution by providing a way to declaratively design/customize the key digital product components, intelligent straight-through-processing (STP) and business processes. Plus, this can be done by business users rather than developers.
Zoral Platform is being used successully and profitably throughout the world, in both mature and emerging markets. It is powering a wide range of personalized digital products via apps, websites, and numerous channels.
Using Zoral Platform you can rapidly launch and adapt new or enhanced digital products.
Zoral Platform, automating intelligent, digital products
This document is provided by Zoral Limited and its affiliated companies ("Zoral") for informational purposes only, without representation or warranty of any kind. Zoral shall not be liable for errors or omissions with respect the information contained in this document. Product Specifications are subject to change without notice. The only warranties for Zoral products and services are those that are set forth in the express warranty statements in Zoral's standard contracts for such products and services, if any. Nothing herein should be construed as constituting an additional warranty.

© Zoral Limited 2018